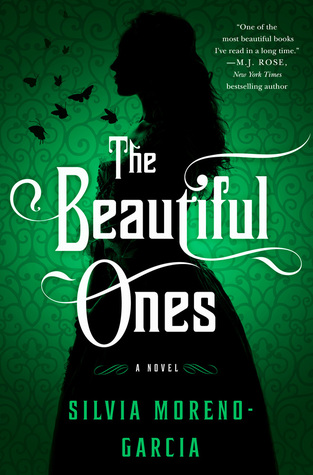 "In a world of etiquette and polite masks, no one is who they seem to be.

Antonina Beaulieu is in the glittering city of Loisail for her first Grand Season, where she will attend balls and mingle among high society. Under the tutelage of the beautiful but cold Valérie Beaulieu, she hopes to find a suitable husband. However, the haphazard manifestations of Nina's telekinetic powers make her the subject of malicious gossip.

Yet dazzling telekinetic performer and outsider Hector Auvray sees Nina's powers as a gift, and he teaches her how to hone and control them. As they spend more and more time together, Nina falls in love and believes she's found the great romance that she's always dreamed of, but Hector's courtship of Nina is deceptive.

The Beautiful Ones is a sweeping fantasy of manners set in a world inspired by the Belle Époque."
The Beautiful Ones by Silvia Moreno-Garcia
Published: October 24th 2017 by Thomas Dunne Books
Source: ARC via Netgalley
Thoughts:
A touch of fantasy is woven through Hector and Nina's respective telekinesis abilities in this Belle Époque inspired historical world. Even though the magical element is on a smaller scale in this world, I nevertheless enjoyed how it tied into the personal lives and development of both characters. This book was fun company while I was travelling earlier this month. I'd recommend it to fans of Jane Austen.
The carefully crafted development of the whole cast made this a charming read. In particular, the different character flaws and strengths shared by Valérie, Hector and Nina made their romantic relationships fascinating to read. I also appreciate stories like this one that show how time and growth apart from people shapes relationships later on too.
It was also great read the contrasting perspectives of these three characters across different levels of class/privilege in society. Valérie and Hector shared a few personality traits that may make them appear antagonistic on the surface but they also created an intriguing well-rounded dynamic. I hope to read more historical fantasy books like this one in the future.
*For more book reviews, support with coffee at Ko-Fi.