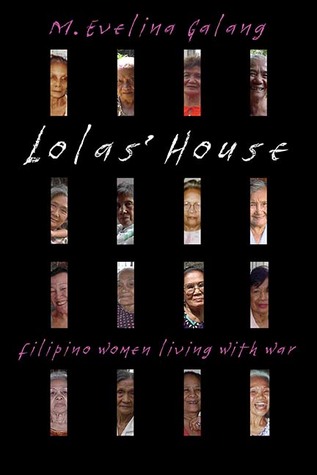 "During World War II more than one thousand Filipinas were kidnapped by the Imperial Japanese Army. Lolas' House tells the stories of sixteen surviving Filipino "comfort women."

M. Evelina Galang enters into the lives of the women at Lolas' House, a community center in metro Manila. She accompanies them to the sites of their abduction and protests with them at the gates of the Japanese embassy. Each woman gives her testimony, and even though the women relive their horror at each telling, they offer their stories so that no woman anywhere should suffer wartime rape and torture.

Lolas' House is a book of testimony, but it is also a book of witness, of survival, and of the female body. Intensely personal and globally political, it is the legacy of Lolas' House to the world."
Lolas' House: Filipino Women Living with War by M. Evelina Galang
Published: September 15th 2017 by Curbstone Books 2
Source: ARC via Netgalley
Thoughts:
A searing account from sixteen Filipina survivors of the war crimes committed by the Imperial Japanese Army against them. The lolas are among the thousands of women across Asia whom were forced to become 'comfort women' during World War II. This book is a much needed record of their personal experiences. I would recommend it to anyone interested in accounts about survival, history and human rights. Trigger warning for rape and torture.
I have so much respect for the lolas and all the women who share these stories in an effort to prevent war crimes of rape, abuse and murder. I appreciate the approach the author took to respect the lolas' rights to speak if they could and the space that was given to them.
The stories are translated into English but each of the lolas' first languages are present in their own words on the page as well. As someone who was born into the Filipino diaspora, my understanding of Tagalog is occasionally fragmented but through Tagalog, Visayan, Kapampangan and Ilocano languages, I could truly hear their voices and the voices of my own lolas. I could also relate to the author's own personal reflections and complex experiences as diaspora. Translation is complex but so much emotion and meaning is conveyed in the descriptions of the lolas' body language too.
"And for a long time we stand in that dark entrance studying each other's faces – the eyes and the mouth, the ear lobes and the body, too. And that is how she comes to remember me – in bits and pieces, out of order and in many languages."
I took breaks while reading this book because the lolas' stories of survival and trauma were so visceral. I would also remember my friend's relative's stories about the soldiers during the occupation, so I'd take time to process those stories with a greater understanding of the context shaped by the experiences shared here.
"She woke to a body to weak to walk and covered in wounds. She woke to a ghost living inside of her, making her afraid of all people. In 1992, when she heard Lola Rosa Henson on the radio, the spell was somehow broken. She stepped forward and released her story. She said telling her story lessened the pain in her chest, helped her to smile and make friends."
Significantly, Lola's House highlights the ongoing protest by the lolas in solidarity with other survivors for full recompense and recognition of these war crimes by the Japanese government for all the survivors across Asia. I hope this record helps break down that barrier. I won't ever forget their stories.
"I know that Lola Pilar has been to Japan multiple times to stand before the judges to ask these questions. And even when she is not fighting, she is fighting."
Laban mga lola.
*Shared for #FilipinoAmericanHistoryMonth or #FAHM in October.
*Also, check out Filipino American History Month: Bookish Links over at Lit CelebrAsian (which I co-host).
*For more book reviews, support with coffee at Ko-Fi.