As co-hosts of the #AsianLitBingo initiative, we're excited to share interviews with authors towards the end of May 2017. I'm grateful to Samira Ahmed for taking the time to answer questions here on the blog. Lookout for her debut YA contemporary book in early 2018 via Soho Teen (US), Hot Key Books (UK) and Allen and Unwin (Aus).
Updated with the US book cover:
Updated with the UK/AUS Cover:
LOVE, HATE, AND OTHER FILTERS by Samira Ahmed:
'A searing #OwnVoices coming-of-age debut in which an Indian-American Muslim teen confronts Islamophobia and a reality she can neither explain nor escape–perfect for fans of Angie Thomas, Jacquelyn Woodson, and Adam Silvera.

Maya Aziz is torn between futures: the one her parents expect for their good Indian daughter (i.e.; staying nearby in Chicago and being matched with a "suitable" Muslim boy), and the one where she goes to film school in New York City–and maybe, just maybe, kisses a guy she's only known from afar.

There's the also the fun stuff, like laughing with her best friend Violet, making on-the-spot documentaries, sneaking away for private swimming lessons at a secret pond in the woods. But her world is shattered when a suicide bomber strikes in the American heartland; by chance, he shares Maya's last name. What happens to the one Muslim family in town when their community is suddenly consumed with hatred and fear?'
On dreams, writing and book recommendations, check out the interview below:
Q: You note that dreams don't have an expiration date for the amazing #OwnYourOwn tag (an initiative aimed at encouraging marginalized voices). Were there any turning points while writing Love, Hate and Other Filters that spoke to your experience of the above?
Samira: Definitely! A lot of writers know they want to write – even professionally – from a young age. I wasn't one of those people. I always wrote – journal entries, poems, short stories – but I didn't always dream of being a novelist, not until much later in my adult life.
I had other dreams – to be a teacher, to live in New York, to work in non-profit, to have my own family, to travel. I was fortunate enough to fulfill those goals. Somewhere along the path, I found myself having new ambitions – specifically, wanting to write a book. And I set about trying to find a way to do that.
I think, regardless of age, people should dream, have ambitions. Challenge yourself – never let your sense of curiosity fade away. Dreams can change and you're never too old or too young to try and set forth in the direction of those hopes and do the work to get there.
Whitman told us that: The powerful play goes on, and you will contribute a verse. The questions I always try and ask myself – what eventually led me to write a book: What will my verse be? How will I manifest it?  I think asking yourself these essential questions helps you get to the core of who you are and what you want – no matter your age.
Q: Intersections are often glossed over/left out of some conversations around inclusive media. How does being a part of an intersectional community help your writing?
Samira: Great question! I'm both Indian-American and Muslim and, yes, Asian. Many people associate Islam with either the Middle East or with Pakistan and assume that if you're Indian, you are Hindu. Neither are true. India is an incredibly diverse country – with dozens of languages, religions, customs, etc. Islam, too, can be found in virtually every corner of the globe.
Honestly, I find it quite frustrating when people look at me and make assumptions about my ethnicity or religion because somehow the two seem mutually exclusive when they are not. And I could write an entire essay on all the people who've told me I'm not "really Asian" because I was born in South Asia as opposed to East Asia. Some of that friction comes from within our community and that really needs to stop because it literally serves no worthwhile purpose. There are discussions we need to have – let's start with prejudice within our own community – but fighting about who is "really Asian" or "really Muslim"? No.
What I love about having all three of those identities is that I not only feel a kinship in different ways with each of those intersections, but I can draw on my experiences in each of those groups to inform my writing and my worldview. My fellow Asian, Muslim, and Desi writers are the ones who can best understand my experiences in this country as an immigrant, as an "other" and when you have that, you realize that, in fact, you're not an "other" at all. I love the common ground we share. I love that we can (and should) have each other's backs. E pluribus unum. From many, we are one.
Q: Your essay on Muhammad Ali as a childhood hero speaks to how important it is to not erase parts of people in history. (In terms of following events, I'm also intrigued by Maya's documentary making skills in Love, Hate and Other Filters). Do you have any heroes today that you wish could be in documentaries or any past figures that you wish could be in stories with more nuanced filters?
Samira: Noor Inayat Khan. She was a British-Indian Muslim woman who was a Special Operations Agent for the Allies during World War 2. She was the first female British radio operator sent into Nazi occupied France to help the French Resistance. She was betrayed by a double agent and captured by the Nazis. She tried to escape twice. Despite terrible treatment and possibly torture, she never gave up any information to the Nazis. She was executed at the Dachau Concentration Camp. Noor Inayat Khan was the first Muslim British war heroine. I think her entire life story is fascinating and I hope more people can learn about her courage.
Q: Are there any books (aside from your own) that you would gift to your younger self?
Samira: First, let me say how thrilling it is that I can actually see Muslims and Desis on the page now. That did not exist when I was a kid. I'm so happy that publishing is starting to recognize marginalized authors and #ownvoices stories. We still have a long way to go (just look to the CCBC data), but thanks in large part to We Need Diverse Books and other champions of diverse voices, we are on our way. Here are three books I know I would've loved as a MG or YA reader, but honestly, this could be a much longer list:
THE GAUNTLET by Karuna Riazi. The adventure, the danger, the courageous and devoted Muslim main character. Middle grade me would've devoured this book.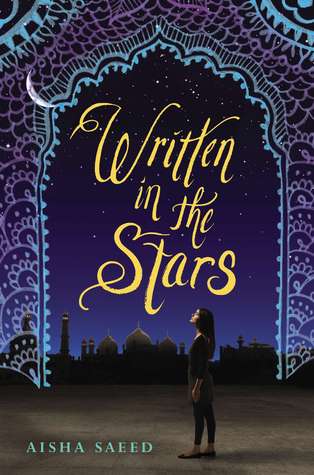 WRITTEN IN THE STARS by Aisha Saeed. This book is beautiful and devastating and it captures both the resilience and vulnerability of its main character so brilliantly—I'm so glad this book exists in the world. I would love to time-travel back to high school and give it to myself.
THAT THING WE CALL A HEART by Sheba Karim. I love how this book portrays the ups and downs of friendship and the complex relationship between an individual and their religion. This book challenges assumptions and I love that. Muslims are not a monolith – this book captures the nuance of one girl's story and it is amazing.
---
Thank you so much Samira! To hear more from Samira, drop by her website and Twitter: @sam_aye_ahm. Also, don't forget to add Love, Hate and Other Filters on Goodreads!