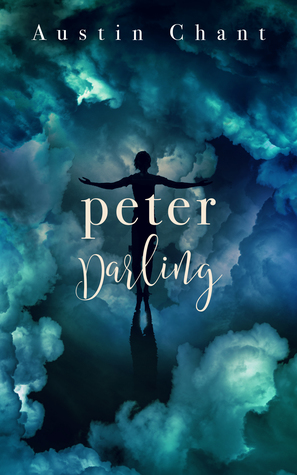 Ten years ago, Peter Pan left Neverland to grow up, leaving behind his adolescent dreams of boyhood and resigning himself to life as Wendy Darling. Growing up, however, has only made him realize how inescapable his identity as a man is.

But when he returns to Neverland, everything has changed: the Lost Boys have become men, and the war games they once played are now real and deadly. Even more shocking is the attraction Peter never knew he could feel for his old rival, Captain Hook—and the realization that he no longer knows which of them is the real villain.
Peter Darling by Austin Chant
Published: February 15th 2017 by Less Than Three Press
Source: ARC via Netgalley
Thoughts:
Firstly, check out a wonderful own voices review of the book.
Peter Darling is so mischievous and charming. I liked how the story highlighted his stubborn side and his capacity to learn too. There is a change in the Lost Boys crew dynamic when he returns as a young adult but I appreciated how the crew questioned ideas around toxic masculinity  when Peter is quick to pick a fight with the pirates. Peter's growth involves listening to his friends, a much appreciated development alongside the engrossing adventure.
Hook was also a well-crafted character and far from a one note antagonist. He has much more depth and back story in this version. I loved how the romance develops from a place of gradual empathy and understanding. Peter Darling is probably one of the few stories I've read that implements the enemies to possible lovers arc really well.
I also liked how Peter and Hook are not the only queer characters in this universe. Neverland as place of refuge and magic is a refreshing take on a portal for both characters to escape the constraints of the society in their ordinary lives. In Peter's case, refuge from the transphobic tendencies of his family. The paths they take to come to terms with both Neverland and a future beyond Neverland is artfully explored through the clever worldbuilding.
Tinkerbell also makes an appearance as a trusted being. Though the problematic Native American representation in the original tale is thankfully absent from this retelling of Peter Pan. This book is probably the most wondrous retelling I've read yet and I recommend it to anyone who loves folktales with a romantic twist.
*For more book reviews, support with coffee at Ko-Fi.