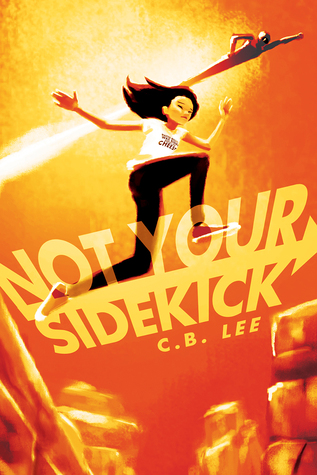 Welcome to Andover…where superpowers are common, but internships are complicated. Just ask high school nobody, Jessica Tran. Despite her heroic lineage, Jess is resigned to a life without superpowers and is merely looking to beef-up her college applications when she stumbles upon the perfect (paid!) internship—only it turns out to be for the town's most heinous supervillain.

On the upside, she gets to work with her longtime secret crush, Abby, who Jess thinks may have a secret of her own. Then there's the budding attraction to her fellow intern, the mysterious "M," who never seems to be in the same place as Abby. But what starts as a fun way to spite her superhero parents takes a sudden and dangerous turn when she uncovers a plot larger than heroes and villains altogether.
Not Your Sidekick (Not Your Sidekick #1) by C.B. Lee
Published: September 8th 2016 by Duet Books
Source: Bookshelf
Thoughts:
This is an incredibly fun YA superhero adventure. The story follows Jess, a bi Chinese-Vietnamese American heroine as she tackles every day life with expectations around powers. When Jess is eventually accepted into an internship, she finds herself introduced to another intriguing aspect of a time shaped by the idolization around super heroes in this post-World War III world.
As she questions how the history of their world has been written, her parents guide her towards focusing on the present rather than the past, which struck me as a realistic tendency of immigrant parents. (I thought of my relatives' similar reactions to questions about wars.) The sibling rivalry between Jess and her sister is also deftly shown with nuance and complicated love.
Young adult books that take on this realistic approach to developing relationships are always fun to read too. I liked that Jess and Abby's romance is built upon trust and friendship. (On that note, a shout-out to Alex and Rishi from Labyrinth Lost). Jess' friendship group as a support system also shines in this story. In particular, Bells is a trans creole man and a reliable friend that joins Jess as they begin to investigate super hero mythology. I can't wait to read the sequel, which will follow his perspective.
I love how Jess embodies the title of this book as she teases out some of the mysteries behind a society preoccupied with super heroes and super villains. Though the nuanced friendships and family relationships are the heart of the story. I enjoyed this one and need to thank CW for prompting me to pick it up!
*The small illustrations at the top of each chapter also adds to the sense of playfulness around the superhero genre.
*For more book reviews, support with coffee at Ko-Fi.