I will be sharing my 2016 favourites list in three parts: Part 1 – YA Speculative fiction and fantasy, Part 2 – Adult Speculative fiction and fantasy & Part 3 – Contemporary fiction and Non-fiction. Truth be told, I learn from all the pages I pass through but friends are curious so here's a few favourites read in 2016.
Young Adult Speculative Fiction & Fantasy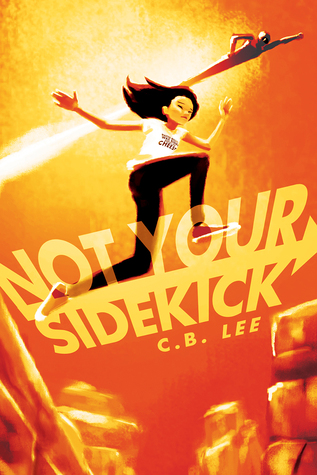 Not Your Sidekick (Not Your Sidekick, #1) by CB Lee (Own voices)
This is a wonderful superhero story that follows Jess, a bi Chinese-Vietnamese American heroine. Can't wait for the sequel, which will focus on Jess' friend Bells who is trans. Thanks to CW for recommending Not Your Sidekick!
Labyrinth Lost by Zoraida Cordova (Own voices)
This is another fun fantasy YA read with Alex, a Latinx bi heroine and bruja (witch). Loved the focus on family. Thanks to the #DSFFBookClub!
The Interrogation of Ashala Wolf by Ambelin Kwaymullina (Own voices)
Since I'm currently re-reading Ashala Wolf for #DSFFBookBlub, I couldn't help but share this post-apocalyptic novel with an Indigenous Australian heroine. Looking forward to finishing this series next year.
Froi of the Exiles(Lumatere Chronicles, #2) by Melina Marchetta
Someday, I will share thoughts on how the Lumatere Chronicles realistically explores the aftermath of war. I adore the second book because it's from the POV of a character I was wary of but Froi goes through an interesting growth arc.
Eat the Sky, Drink the Ocean Edited by Kirsty Murray, Payal Dhar & Anita Roy
(Own voices)
This is a fantastic Feminist speculative fiction collaboration between Indian and Australian writers + artists. Thanks to Romi for recommending me this anthology!
Defying Doomsday Edited by Tsana Dolichva and Holly Kench
An anthology with a mix of own voices + non-own voices diverse rep. in young adult and adult stories. I really enjoyed this collection of post-apocalyptic stories with neurodiverse and disabled protagonists.
Serpentine by Cindy Pon (Own voices)
This is a lovely coming of age story about a heroine named Skybright. It also draws on Chinese folklore. Can't wait for my library to get the sequel, which focuses a bit more on Zhen Ni, Sky's best friend. I hope Zhen Ni is part of a f/f romance in the sequel.
A History of Glitter and Blood by Hannah Moskowitz (Own voices)
A surreal YA fantasy story that subverts storytelling conventions with an unreliable narrator who delves into post-war life. Loved this unique take on fae and all the bisexual rep.
*My adult SFF pile and contemporary book pile covers more of the LGBTQIA+ spectrum than my YA SFF pile, so lookout for those future posts soon.