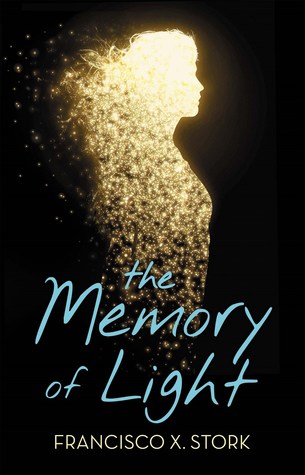 Vicky Cruz shouldn't be alive.

That's what she thinks, anyway—and why she tried to kill herself. But then she arrives at Lakeview Hospital, where she meets Mona, the live wire; Gabriel, the saint; E.M., always angry; and Dr. Desai, a quiet force. With stories and honesty, kindness and hard work, they push her to reconsider her life before Lakeview, and offer her an acceptance she's never had.

Yet Vicky's newfound peace is as fragile as the roses that grow around the hospital. And when a crisis forces the group to split up—sending her back to the life that drove her to suicide—Vicky must find her own courage and strength. She may not have any. She doesn't know.

Inspired in part by the author's own experience with depression, The Memory of Light is the rare young adult novel that focuses not on the events leading up to a suicide attempt, but the recovery from one—about living when life doesn't seem worth it, and how we go on anyway.
The Memory of Light by Francisco X. Stork
Published: January 26th 2016 by Arthur A. Levine Books
Source: My bookshelf
Thoughts:
Maybe sitcoms are like poems I like to read when things got really bad. Even when my brain stopped working and words were hieroglyphs, the images and rhythms kept me company.
I'm very grateful to the author for writing and sharing a story that partly speaks to his own experience of depression and recovery. Vicky's story unpacks so many of her own assumptions, prejudices and family stigmas around mental illness. It's crucial to follow this story from the perspective of the person who is experiencing it, so I appreciated how we see Vicky come to an understanding of both organic and situational depression:
'Margie, one of the fifth-floor nurses, lets me use the computer in an empty doctor's office, so I am able to do some research. Depression can be a reaction to a life-event, like my mother's death, or it can be a symptom of another physical illness, or even a side effect of drugs. But sometimes the depression is in itself an illness – an illness, like any illness, like the flu or the mumps. The only difference is that instead of affecting the lungs or skin, depression affects the mind. It interferes with certain chemicals responsible for transmitting messages from one part of the brain to another.'
Vicky's friends at Lakeview Hospital all have their own assumptions to unravel and they often confront these thoughts in the safe space of their circle. The friendships do grow quickly but these teens form a much needed support group as they wrestle with their own perceptions of themselves. Vicky's close friend Gabriel's journey with schizophrenia is also an important thread in this book.
Vicky gets a broader view of depression and the thought process that often accompanies it with professional support from Dr. Desai. Vicky is fortunate that she met a professional who understands where she is coming from early on. There is no stigma around the receiving of medicine either.
When faced with her father's push to pick herself up and quickly return to her school routine, she can barely speak out of fear from parental disapproval but manages to continue to speak and seek help due to support from Dr. Desai. This pervasive cultural attitude among families to return to a routine without being equipped enough to re-interpret that environment is common and dangerous. Families often have to face and re-evaluate their own assumptions, which create barriers in supporting a loved one. Vicky's family begins to unravel this unconscious bias in order to be truly supportive.
Another barrier that Vicky faces despite being financially privileged is her father's competitive spirit that causes her to doubt her own abilities. This attitude also distances their family from other Latinx American families as her father disapproves of her friend E.M because he is from the working class. The discussion Vicky's family faces around classism is also a point of self-reflection.
On a different note, Vicky's solace in reading and writing poetry is a thread that will resonate with many. The poem that Vicky writes to the 'Memory of Light' in remembrance of her mother spoke to me. I'll carry it in memory of mine too. Her experiences resonated with me to the point that I paused my reading at times. Although, I have now bookmarked chapters that I will always return to.
This is the most realistic book I've read about depression and loss. It also has a realistic approach to hope in a sea of outsider YA contemporary narratives that often don't delve into the nuances of this experience. The writing is wonderful too. For these reasons, it's one of my favourite books of 2016.
*Although do take care and note the trigger warnings for Vicky's suicide attempt, contemplation and suicide ideation. Plus some ableist language from others.
Related reviews: Check out Naz's review at Read Diverse Books. I also came across this article via Disability in Literature: Depression Has No Straight Lines, Only Lies, which lists and recommends this book in context.