Thanks to Aimal for creating and hosting this feature. See her announcement post for the full details. (Here's my throwback link to Diversity Thursday #1 if you missed it.)
Diversity Spotlight will take place every Thursday, and it will be featuring three books in any given week: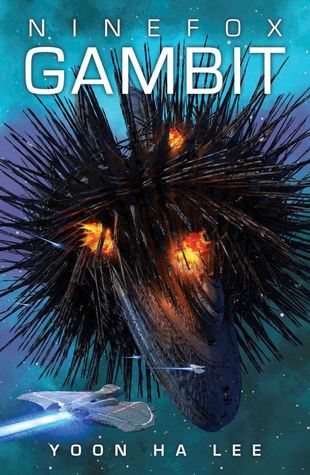 To win an impossible war Captain Kel Cheris must awaken an ancient weapon and a despised traitor general.

Captain Kel Cheris of the hexarchate is disgraced for using unconventional methods in a battle against heretics. Kel Command gives her the opportunity to redeem herself by retaking the Fortress of Scattered Needles, a star fortress that has recently been captured by heretics. Cheris's career isn't the only thing at stake. If the fortress falls, the hexarchate itself might be next.

Cheris's best hope is to ally with the undead tactician Shuos Jedao. The good news is that Jedao has never lost a battle, and he may be the only one who can figure out how to successfully besiege the fortress.

The bad news is that Jedao went mad in his first life and massacred two armies, one of them his own. As the siege wears on, Cheris must decide how far she can trust Jedao–because she might be his next victim.
Ninefox Gambit by Yoon Ha Lee
This is a great multicultural Asian space opera and it features two protagonists from across the LGBTQ+ spectrum: Cheris who is attracted to women and Jedao who is bi/pan. (Though this universe doesn't use the same labels of our universe.) Thanks to Bogi for also sharing the interview about how the author's trans identity shaped another aspect of the story.
Four women, soldier, scholar, poet, and socialite, are caught up on different sides of a violent rebellion. As war erupts and their families are torn apart, they fear they may disappear into the unwritten pages of history. Using the sword and the pen, the body and the voice, they struggle not just to survive, but to make history.
The Winged Histories by Sofia Samatar
I actually have this on my e-reader. I've only read poetry and short stories by Samatar before but I'm looking forward to this book. Especially since it is about powerful women with different experiences.
How do people decide on a path, and find the drive to pursue what they want? Ida struggles more than other young people to work this out. She can shift between parallel universes, allowing her to follow alternative paths.

One day Ida sees a shadowy, see-through doppelganger of herself on the train. She starts to wonder if she's actually in control of her ability, and whether there are effects far beyond what she's considered.

How can she know, anyway, whether one universe is ultimately better than another? And what if the continual shifting causes her to lose what is most important to her, just as she's discovering what that is, and she can never find her way back?
Ida by Alison Evans
I'm always up for a good parallel worlds story with genderqueer characters. Also, excited to read more own voices Australian YA LGBTQIA+ writing. This books appears to be NA/crossover too.