After much Hogwarts House soul searching, I finally picked a house for the diverse #DAReadathon hosted by Read at Midnight. As a Slytherdor, my patronus combined with my final house choice is a nod to both sides.
Reading across 15 days is for the dauntless but I welcome the challenge. I will only try to read 7 books but I have included a few extra TBR options to cater for my reading moods. Anything I don't finish reading for the first half of January, will carry over to the second half during #DiverseAThon and over the next few months. Feel free to pick up any of the books below. (For YA readers, also check out Diversity in YA's book lists.)
*All banners are designed by Aentee of Read At Midnight.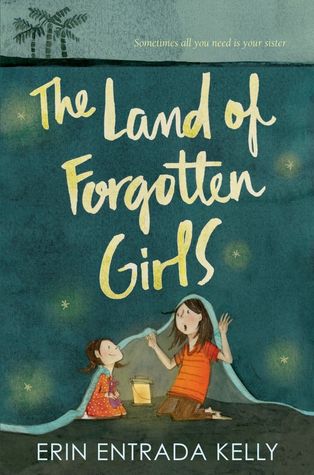 The Land of Forgotten Girls by Erin Entrada Kelly
Two sisters from the Philippines, abandoned by their father and living in impoverished circumstances in Louisiana, fight to make their lives better.

Soledad has always been able to escape into the stories she creates. Just like her mother always could. And Soledad has needed that escape more than ever in the five years since her mother and sister died and her father moved Sol and her youngest sister from the Philippines to Louisiana. Then he left, and all Sol and Ming have now is their evil stepmother, Vea. Sol has protected Ming all this time, but then Ming begins to believe that Auntie Jove—their mythical, world-traveling aunt—is really going to come rescue them. Have Sol's stories done more harm than good? Can she protect Ming from this impossible hope?
As I grew up without any books with Filipino characters, it warms my heart that this book exists today. The Land of Forgotten Girls also touches upon the experience of loss. Finding solace in stories is one of the many reasons I read, so I'm looking forward to it.
*Related recs: The last few books I read with Filipino protagonists: Something in Between, The SEA is Ours: Tales of Steampunk South-east Asia and White Turtle.
Parable of the Sower (Earthseed #1) by Octavia E. Butler
When unattended environmental and economic crises lead to social breakdown, no one is safe. In a night of fire and death, Lauren Olamina, the young daughter of a minister, loses her family and home and ventures out from their ravaged gated community into the unprotected American landscape. But what begins as a fight for survival soon leads to something much more: a startling vision of human destiny
This was my first Octavia E. Butler book and I'm eager to re-read it, so I can finally read the sequel. The sequel to this post-apocalyptic novel predicted Trump's campaign slogan, so it is very relevant to the political climate of today, which has affected many of my fellow bloggers.
*Octavia Butler's work can be quite dark but always deals with relevant systems of power, so I also recommend Kindred and Wild Seed.
Where the Streets Had a Name by Randa Abdel-Fattah
Thirteen-year-old Hayaat is on a mission. She believes a handful of soil from her grandmother's ancestral home in Jerusalem will save her beloved Sitti Zeynab's life. The only problem is the impenetrable wall that divides the West Bank, as well as the check points, the curfews, the permit system and Hayaat's best-friend Samy, who is mainly interested in football and the latest elimination on X-Factor, but always manages to attract trouble.

But luck is on their side. Hayaat and Samy have a curfew-free day to travel to Jerusalem. However, while their journey may only be a few kilometres long, it may take a lifetime to complete.
From Notable Novels for Teens About the Arab World, I picked up this book because I want to read more books which show the multiplicity of religions within a region and this book seems to explore that aspect.
*Related recs: Yassmin's Story is a great memoir about growing up in Australia while being of Sudanese-Egyptian heritage and Muslim. Also, both Fire Boy and Alif the Unseen have Muslim protagonists.
A Time to Dance by Padma Venkatraman
Padma Venkatraman's inspiring story of a young girl's struggle to regain her passion and find a new peace is told lyrically through verse that captures the beauty and mystery of India and the ancient bharatanatyam dance form. This is a stunning novel about spiritual awakening, the power of art, and above all, the courage and resilience of the human spirit.

Veda, a classical dance prodigy in India, lives and breathes dance—so when an accident leaves her a below-knee amputee, her dreams are shattered. For a girl who's grown used to receiving applause for her dance prowess and flexibility, adjusting to a prosthetic leg is painful and humbling. But Veda refuses to let her disability rob her of her dreams, and she starts all over again, taking beginner classes with the youngest dancers. Then Veda meets Govinda, a young man who approaches dance as a spiritual pursuit. As their relationship deepens, Veda reconnects with the world around her, and begins to discover who she is and what dance truly means to her.
My friend Nafiza from The Book Wars loved this one. Dance is such a beautiful art, and I don't read enough books with disabled characters.
*Related recs: Defying Doomsday has disabled & neurodiverse protagonists. Also, see Disability in Lit. This list features 8 YA South-Asian Authors.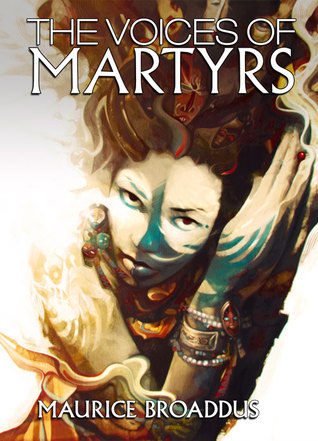 The Voices of Martyrs by Maurice Broaddus
We are a collection of voices, the assembled history of the many voices that have spoken into our lives and shaped us. Voices of the past, voices of the present, and voices of the future. There is an African proverb, "Se wo were fi na wosankofa a yenkyi," which translates as "It is not wrong to go back for that which you have forgotten." This is why we continue to remember the tales of struggle and tales of perseverance, even as we look to tales of hope. What a people choose to remember about its past, the stories they pass down, informs who they are and sets the boundaries of their identity. We remember the pain of our past to mourn, to heal, and to learn. Only in that way can we ensure the same mistakes are not repeated. The voices make up our stories. The stories make up who we are. A collected voice.
A collection of Afrofuturist short stories on my must-read & review ARC TBR.
*Related recs: I need to expand my Afrofuturist reading beyond Octavia E. Butler, Nnedi Okorafor, Nalo Hopkinson and NK Jemisin. I'm also excited because I noticed that Karen Lord read The Voices of Martyrs and I enjoyed her Sengalese mythic story in Redemption in Indigo.
Look Who's Morphing by Tom Cho
First published to acclaim in Australia, "Look Who's Morphing" by Asian Australian writer Tom Cho is a funny, fantastical, often outlandish collection of stories firmly grounded in popular culture. Often with his family, the book's central character undergoes a series of startling physical transformations, shape-shifting through figures drawn from film and television, music and books, porn flicks and comics. He is Godzilla, a Muppet, a gay white male stud, and Whitney Houston's bodyguard; the Fonz, a robot, the von Trapp family's caretaker, a Ford Bronco 4×4 and in the book's lavish climax, a one-hundred-foot-tall guitar-wielding rock star performing for an adoring troupe of fans in Tokyo.
I went to the book launch of Books Actually's Gold Standard and heard an extract of Tom Cho's amazing story about a robot with questions. It made me curious to check out his previous work.
*Related recs: The Trans Lit community recommendations.
What Is Not Yours Is Not Yours by Helen Oyeyemi
The stories collected in What Is Not Yours Is Not Yours are linked by more than the exquisitely winding prose of their creator: Helen Oyeyemi's ensemble cast of characters slip from the pages of their own stories only to surface in another.

The reader is invited into a world of lost libraries and locked gardens, of marshlands where the drowned dead live and a city where all the clocks have stopped; students hone their skills at puppet school, the Homely Wench Society commits a guerrilla book-swap, and lovers exchange books and roses on St Jordi's Day. It is a collection of towering imagination, marked by baroque beauty and a deep sensuousness.
Recommended by Aentee at Read at Midnight. I enjoyed Oyeyemi's White is for Witching, so I'm looking forward to how she twists the gothic and symbols from fairytales in stories here. For intersectional rep, this collection also has stories which feature queer f/f relationships. A few reviews talk about finding some Feminist stories within too.
*Related recs for more intersectional Feminist reading: Juliet Takes A Breath, The Geek Feminist Revolution & Bad Feminist. Also, check out this list at The Book Wars.
Laurinda (Lucy and Linh for US friends) by Alice Pung
Laurinda is an exclusive school for girls. At its secret core is the Cabinet, a trio of girls who wield power over their classmates – and some of their teachers.

Entering this world of wealth and secrets is Lucy Lam, a scholarship girl with sharp eyes and a shaky sense of self. As she watches the Cabinet at work, and is courted by them, Lucy finds herself in a battle for her identity and integrity.

Funny, feisty and moving, Laurinda explores Lucy's struggle to stay true to herself as she finds her way in a new world of privilege and opportunity.
I can't believe I haven't read this yet. My younger self definitely would have related to the story of a teen navigating an all girls high school.
*Related recs: I also loved the contemporary YA graphic novel Skim by Mariko Tamaki, which is also set in an all girls school. One of the last Australian contemporary YA novels I enjoyed was The Astrologer's Daughter by Rebecca Lim.
Damascus Nights by Rafik Schami
It is 1959, Damascus. The most famous storyteller in Damascus, Salim, the coachman, has mysteriously lost his voice. For seven nights, his seven old friends gather to break the spell with their seven different, unique stories — some personal, some modern, some borrowed from the past. Against the backdrop of shifting Middle Eastern politics, Schami's eight characters, lost to the Arabian nights, weave in and out of tales of wizards and princesses, of New York skyscrapers and America. With spellbinding power, Schami imparts a luscious vision of storytelling as food for thought and salve for the soul, as the glue which holds our lives together.
I definitely need to read more translated works and I'm eager to read on an own voices take on an Arabian nights retelling.
*Related recs: Will keep an eye out for SF translated works too.
Ms. Marvel, Vol. 1: No Normal by G. Willow Wilson & Adrian Alphona
Marvel Comics presents the new Ms. Marvel, the groundbreaking heroine that has become an international sensation!

Kamala Khan is an ordinary girl from Jersey City — until she's suddenly empowered with extraordinary gifts. But who truly is the new Ms. Marvel? Teenager? Muslim? Inhuman? Find out as she takes the Marvel Universe by storm! When Kamala discovers the dangers of her newfound powers, she unlocks a secret behind them, as well. Is Kamala ready to wield these immense new gifts? Or will the weight of the legacy before her be too much to bear? Kamala has no idea, either. But she's comin' for you, Jersey!
Given the state of the world, we probably all need someone like Kamala Khan in our lives. This graphic novel is must be read, so I will pick it up soon.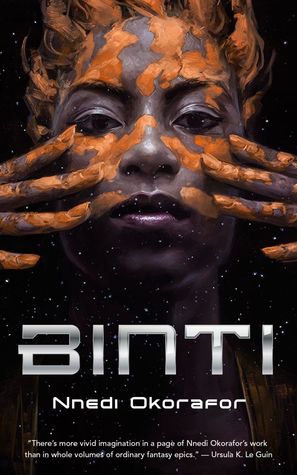 Her name is Binti, and she is the first of the Himba people ever to be offered a place at Oomza University, the finest institution of higher learning in the galaxy. But to accept the offer will mean giving up her place in her family to travel between the stars among strangers who do not share her ways or respect her customs.

Knowledge comes at a cost, one that Binti is willing to pay, but her journey will not be easy. The world she seeks to enter has long warred with the Meduse, an alien race that has become the stuff of nightmares. Oomza University has wronged the Meduse, and Binti's stellar travel will bring her within their deadly reach.

If Binti hopes to survive the legacy of a war not of her making, she will need both the gifts of her people and the wisdom enshrined within the University, itself – but first she has to make it there, alive.
The blurb has everything I want to read in SF. I was amazed by the intensity of her previous books but I have a soft spot for novellas, so I'm looking forward to this one too.
*Related recs: The urban fantasy novella, The Ballad of Black Tom is set in the 1920s New York and needs to be adapted. My other favourite novella is On a Red Station, Drifting, a scifi story, which revolves around a Vietnamese-Chinese political family, survival and artificial intelligence.
Freedom Swimmer by Wai Chim
Ming survived the famine that killed his parents during China's 'Great Leap Forward', and lives a hard but adequate life, working in the fields…When a group of city boys comes to the village as part of a Communist Party re-education program, Ming and his friends aren't sure what to make of the new arrivals. They're not used to hard labour and village life. But despite his reservations, Ming befriends a charming city boy called Li. The two couldn't be more different, but slowly they form a bond over evening swims and shared dreams…But as the bitterness of life under the Party begins to take its toll on both boys, they begin to imagine the impossible: freedom.
I am still not over how I missed the book launch for this one. Recommended by the wonderful Wendy at Written In Wonder.
*More historical fic recs: Snow Flower and the Secret Fan and Becoming Kirrali Lewis.
The Unintentional Time Traveler (Time Guardians #1) by Everett Maroon
Fifteen-year-old Jack Bishop has mad skills with cars and engines, but knows he'll never get a driver's license because of his epilepsy. Agreeing to participate in an experimental clinical trial to find new treatments for his disease, he finds himself in a completely different body—that of a girl his age, Jacqueline, who defies the expectations of her era. Since his seizures usually give him spazzed out visions, Jack presumes this is a hallucination. Feeling fearless, he steals a horse, expecting that at any moment he'll wake back up in the clinical trial lab. When that doesn't happen, Jacqueline falls unexpectedly in love, even as the town in the past becomes swallowed in a fight for its survival. Jack/Jacqueline is caught between two lives and epochs, and must find a way to save everyone around him as well as himself. And all the while, he is losing time, even if he is getting out of algebra class.
Recommended by the amazing Naz at Read Diverse Books. I'm looking forward to reading this YA science fiction/fantasy book with a non-binary protagonist by a trans author.
*Related recs: YA Trans Lit Recs. Also, the last few SFF books I read with non-binary characters and trans characters were Love Beyond Body, Space, and Time: An Indigenous LGBT Sci-Fi Anthology  and Beyond: the Queer Sci-Fi & Fantasy Comic Anthology.
The Sidekicks by Will Kostakis
The Swimmer. The Rebel. The Nerd.

All Ryan, Harley and Miles had in common was Isaac. They lived different lives, had different interests and kept different secrets. But they shared the same best friend. They were sidekicks. And now that Isaac's gone, what does that make them?

Will Kostakis, award-winning author of The First Third, perfectly depicts the pain and pleasure of this teenage world, piecing together three points of view with intricate splendour.
Recommended by Chiara from Delicate Eternity. I'll try to read this before the author event. I definitely need to read more Australian YA books with protagonists from across the LGBTQUIA+ spectrum.
*Related recs: For more Australian YA LGBTQUIA+ books, I recommend Songs That Sing Like Blood and this excellent resource. I also have Here's the Thing on my TBR.