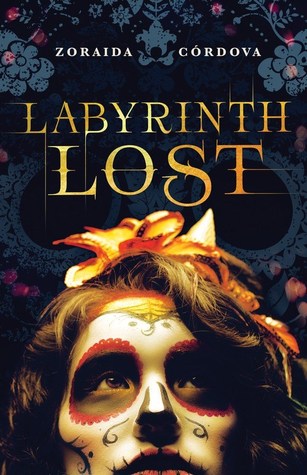 Nothing says Happy Birthday like summoning the spirits of your dead relatives.

I fall to my knees. Shattered glass, melted candles and the outline of scorched feathers are all that surround me. Every single person who was in my house – my entire family — is gone.

Alex is a bruja, the most powerful witch in a generation…and she hates magic. At her Deathday celebration, Alex performs a spell to rid herself of her power. But it backfires. Her whole family vanishes into thin air, leaving her alone with Nova, a brujo boy she can't trust. A boy whose intentions are as dark as the strange markings on his skin.

The only way to get her family back is to travel with Nova to Los Lagos, a land in-between, as dark as Limbo and as strange as Wonderland…

Beautiful Creatures meets Daughter of Smoke and Bone with an infusion of Latin American tradition in this highly original fantasy adventure.
Labyrinth Lost (Brooklyn Brujas #1) by Zoraida Córdova
Published: September 6th 2016 by Sourcebooks Fire
Source: My bookshelf
Thoughts:
I was a long-time fan of the tv-show Charmed because aside from all the magical mysteries, it was a story about sisters who happened to be witches. Labyrinth Lost speaks to this enduring love for stories about magical families in a Latin American fantasy world with Alejandra a.ka. Alex, a heroine who is in the midst of her own coming of age story on so many different levels.
I liked how Alex's story dives into how self-acceptance can be challenging – especially when you mistake a part of yourself – in this case, magic – as a weakness. Family is a constant presence in this story. I loved that the communal and generational aspects are shown too.
When I think of family, I think of Mom, Lula and Rose. When my mom thinks of family, she means everyone related to us by a single drop of blood and marriage.
There is also an abundance of powerful women within this story, including Alex's Mama Juanita:
Mama Juanita – she could do everything. Command the elements. Heal the sick. Speak to the dead. She wrote her own cantos. And she made the best sopa de pollo in all of Brooklyn.
I also love how the loyalty, friendship and romance between Rishi and Alex is built up:
I get closer to her. Her brown skin is bathed in the starlight. Her long, dark hair is windblown and wild around her shoulders. Something in the pit of my stomach falls, and when she smiles at me, it just keeps falling.
Rishi is Guyanese and the Hindu mythos is also briefly touched upon as part of her own faith.
In terms of Latin American folklore, many supernatural beings such as the duende appear in this deadly but immersive adventure across an underworld known as Los Lagos. Amidst the high stakes, Alex's bisexuality is shown as a realistic part of her self without outside judgment alongside her journey to understand what it means to be a bruja and rescue her family.
Labyrinth Lost is a YA urban fantasy book that my teen self would have appreciated even more for its adventure, diversity and coming of age story. I'm eagerly awaiting the sequel, which will follow Alex's sister, Luna. Though I hope to glimpse more of Alex, Rishi and Nova, the intriguing but troubled brujo along the way. Thanks again to the #DSFFBookClub for giving me another reason to read this book.