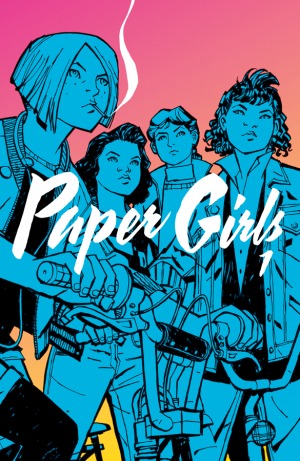 In the early hours after Halloween of 1988, four 12-year-old newspaper delivery girls uncover the most important story of all time. Suburban drama and otherworldly mysteries collide in this smash-hit series about nostalgia, first jobs, and the last days of childhood.

Collects Paper Girls #1-5.
Paper Girls, Vol. 1 by Brian K. Vaughan,
Cliff Chiang (Illustrator), Matthew Wilson (Illustrator)
Genre/Medium: Speculative fiction/Graphic Novel
Published: April 2016 by Image Comics
Source: ARC via Netgalley
Thoughts:
This was more violent than I thought it would be.
Volume 1 opens with a nightmare involving an apple, an alien, a hostage situation and Erin, a local newspaper delivery kid. After Erin escapes, we meet the rest of the paper girls, as they face off a group of nasty boys during a nightly newspaper delivery job. (A potential warning: Mac uses homophobic language during the exchange but Erin does call her out on that.)
After The Paper Girls ward off the scum, strange things happen to the adults in the town and they find a machine in the basement. They also encounter two groups of weird and/or hostile beings who are at war with each other. As the mystery around the latter two groups deepens, this comic plays with old SF tropes and literally drops a War of the Worlds reference. (One of these days, I will actually read that title.)
There is a sense of heightened of unease as people are hurt and/or disappear. (A potential warning: There is a suicidal and alcoholic parent that does appear & disappear.) I liked Erin's level-headed approach to the unfamiliar and dangerous situations. The Paper Girls go into survival mode.
At first, I thought this story might be too grim and violent for my current reading mood. However, the mystery is still ongoing and I wonder if certain SF tropes will be reinforced/subverted later on. It's too early to predict. I am curious about the apple references and the future of the girls after we are left with a cliffhanger, so I might pick up the next volume.
*The art style fits the 80s dream/nightmare-like mood of the story. I did like the diversity of the paper girls, their families and the mysterious beings. I picked up the volume due to those reasons. Though the story leans more towards the horror side of SF, and since I rarely read horror, I have mixed feelings of curiosity and unease.