Today's theme is hosted by: The Broke and the Bookish.
Characters often interact with the present environment and the histories of the speculative worlds in which they live in. On the topic of worldbuilding, I recommend Kate Elliott's essay, 'The Landscape That Surrounds Us' from her recent collection; and Aliette de Bodard's article, 'On Worldbuilding, Patchwork and filing off Serial Numbers.' I'd also study these books:
– Books That Would Be On Your Syllabus If You Taught Worldbuilding 101 –
The Inheritance Trilogy by NK Jemisin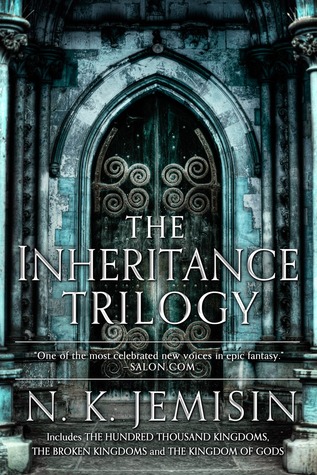 Upon entering this series for the first time, I found myself in a fully realised universe. It's a great study for creating mythologies. I love the playfulness of the gods in these books. For that reason, the third book is probably my favourite.
Obsidian and Blood by Aliette de Bodard
I loved how the character's lives are intertwined with the visceral magic and the socio-religious elements of this re-imagined Aztec universe.
Warbreaker by Brandon Sanderson
I really enjoyed the philosophical elements around 'breath' and the mythology of the gods in this world.
Body of Glass by Marge Piercy
This is one of my favourite post-apocalyptic cyberpunk novels. I loved how the post-human story is explored in these two very different story threads: the main post-apocalyptic story and the connected mythological side-story about golems.
Fever Crumb by Phillip Reeve
Mortal Engines was my first brilliant introduction to steampunk but the prequel, Fever Crumb, brings all these post-apocalyptic ideas about technology and post-humanism together in this genre-bender.
The Parable of the Sower by Octavia E. Butler
The sheer realism of the post-apocalyptic world in this novel is worth studying.
Four Ways to Forgiveness by Ursula K. Le Guin
Any book from the Hainish cycle is worth studying. That universe, seriously.
Fortune's Pawn by Rachel Bach
I have a soft spot for space operatic universes. The way the different cultures and religions are structured in this one really intrigued me.
Cold Magic by Kate Elliott
I enjoyed how this afro-celtic post-roman mythos & magic system in this alternate ice-punk regency novel functions.
Redemption in Indigo by Karen Lord
I loved the oral traditional narration style of a story within a story. I listened to the audiobook as I delved into this wonderful fantasy world inspired by Senegalese folklore.
 *Feel free to recommend a book below!