I have a bookshelf dedicated to exploring stories with fairy/folktale twists but today, I'm sharing my TBR:
Half World by Hiromi Goto
My friend really enjoyed this one and I love tales about entering another world.
Tam Lin by Pamela Dean
I tried to read this last year but hopefully, I'll give it another try because I'm curious about stories that follow heroines in their college years into fantasy worlds. Honourable mentions: Tam Lin retellings I've enjoyed include Winter Rose by Patricia Mckillip. Fire and Hemlock by Diana Wynne Jones is also on my TBR.
Spindle's End by Robin Mckinley
Sleeping Beauty is actually one of my least favourite fairytales but I love Mckinley's writing so I have a copy of this one to read. Honourable mentions: A Long, Long Sleep by Anna Sheehan is on my TBR for a YA scifi take on the tale.
Guardian of the Dead by Karen Healey
I want to read more stories with Maori mythology and I also have copy to finish at some point.
The Chaos by Nalo Hopkinson
I loved Falling in Hominids by Nalo Hopkinson (review up soon) so I'm eager to read this story which weaves in Caribbean folklore too.
The Goddess Chronicle by Natsuo Kirino
I've only read one of Kirino's quietly compelling mystery/thrillers (Real World) but I really want to read how she weaves Japanese mythology in this one.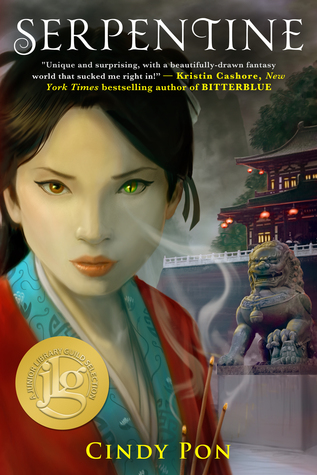 Serpentine by Cindy Pon
I liked Silver Phoenix so I'm excited to pick up this one later in the year.
Damascus Nights by Rafik Schami
I love Arabian nights structured stories. A friend recommended this one to me too. Honourable mentions: The Wrath and the Dawn by Renee Ahdieh is on my TBR. I also loved In The Night Garden by Catherynne M Valente which uses the story within a story structure of the Arabian nights.
Keturah and Lord Death by Martine Leavitt
Friends have loved this story so I have copy somewhere in my room. Honourable mentions: The Russian folktale is tackled and re-imagined in Deathless by Catherynne M Valente.
*I really want to read more retellings of Filipino folklore (the supernatural creatures in the horror films used to scare me as a kid) but I thought I'd save that post for the future.