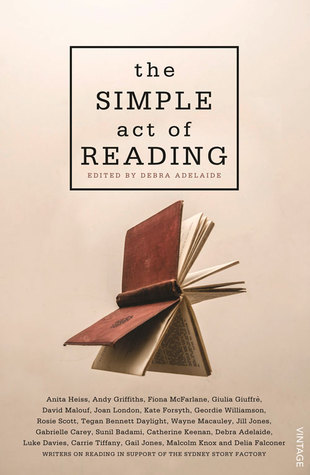 "For it is in the simple act of reading where the living and the dead, the real and the imagined, meet. It is in the simple act of reading where we exercise those two most sacred of human vocations: compassion and creativity. For as we know, without either of these primes there is no possibility for a humanity present or past worth talking about."
– Junot Diaz
Edited by: Debra Adelaide
Published: June 1 2015 by Random House Australia
A collection of essays and memoir pieces on the topic of reading, in particular what it means for writers to be readers and how that has shaped their life. The Simple Act of Reading will support Sydney Story Factory by emphasising the importance of reading in shaping an individual's future.

Contributors include; Debra Adelaide, Joan London, Delia Falconer, Sunil Badami, Gabrielle Carey, Luke Davies, Tegan Bennett Daylight, Kate Forsyth, Giulia Giuffre, Andy Griffiths, Anita Heiss, Gail Jones, Jill Jones, Catherine Keenan, Malcolm Knox, Wayne Macauley, Fiona McFarlane, David Malouf, Rosie Scott, Carrie Tiffany and Geordie Williams.
Thoughts:
I'm an odd reader who likes to read about reading. I picked up an advanced reading copy of The Simple Act of Reading when I saw two of my favourite Australian authors – Anita Heiss and Kate Forsyth – in the list of contributors. I was eager to read their thoughts on books. After delving into this book, I clicked with many of the different personal essays. I've found a few more Australian writers to check out in the future.
Whether it was finding shelter away from a hospital, a school, a crisis or the desert, I found that each memoir piece drew the reader into a moment where words on a page lit up a world of possibility. I enjoyed the intense reflections upon reading as a haven, shelter and an inspirational world.
It's always instructive to return to a book you admired a long time ago. It carries the ghost of the first reading.

– Joan London
When I was reading, I was in a world, not a plot. I responded to atmospheres, places, the magic of them, transformations, of things and the non-human as well.

– Jill Jones
Every essay starts with a teasing quote to pull the reader into a memory of a book, a poem or a comic that essentially, changed a life.
The Simple Act of Reading supports the wonderful community at the Sydney Story Factory:
The Sydney Story Factory is a not-for-profit creative writing centre for young people at 176 Redfern Street, Redfern, Sydney. Our trained volunteer tutors offer free help to write stories of all kinds. Programs target marginalised young people, and those from Indigenous and non-English speaking backgrounds, but are open to everyone.