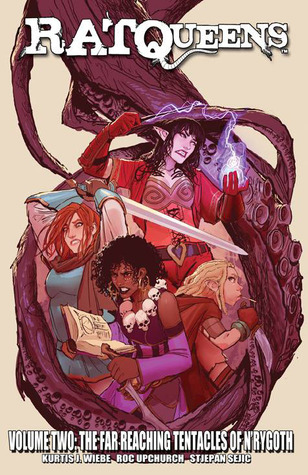 Rat Queens Volume 2.
– Written by Kurtis J. Wiebe
– Illustrated by Roc Upchurch & Stejpan Sejic.
Acquired: ARC via Netgalley
Genre: Fantasy
Medium: Graphic Novel
Published: May 19 2015 by Diamond Book Distributors/Image Comics
Blurb:
A brand-new, booze-soaked tale of the Rat Queens reveals a growing menace within the very walls of Palisade. And while Dee may have run from her past, the bloated, blood-feasting sky god N'rygoth never really lets his children stray too far. Collects issues #6-10 of the smash-hit series, plus extras.
Thoughts:
Many book blogger friends have recommended this series to me.
For new readers, I'd recommend starting with the 1st volume to avoid any confusion. After finally jumping into a crazy adventure with this diverse crew of female magic wielders/fighters, I'm definitely going back to read the 1st volume. In Rat Queens, there's a great balance between a fun crew rapport and the gritty means of saving the world.
I loved the unapologetic directness of the female characters (especially Hannah) and the humour between all the fighting, spellcasting and bloodshed. I admired how they partake in sexytimes, navigate and save the world. Throughout it all, they're still flawed, real and relatable people.
Some of my favourite moments included: The fantastic flashback where Hannah's mother explains how to deal with the confusion of being born into a narrow world with mixed heritage to her daughter. On a similar vein, Violet's mother's understanding follow up to how Violet dealt with a sexist idiot in her individual rebellion against that system was brilliant. I also enjoyed Dee's exploration of her beliefs, the art and the queer relationships.
This second installment moves between different character episodes but it gradually builds up to the final battle towards the end. I agree with other reviewers that this series would definitely appeal to gamers but as non-gamer, I found the characters relatable and the world to be appealing to any adult reader looking for a good adventure.
An art aside: As a new reader of this series, I adored the character costume designs. I understood why people become cosplayers because of it.