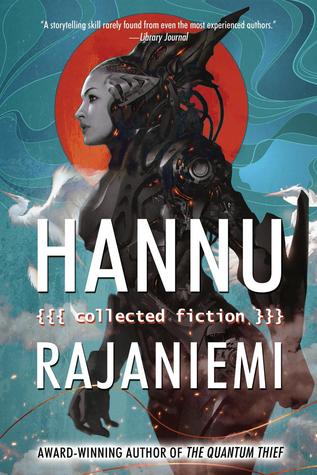 Hannu Rajaniemi: Collected Fiction
Acquired: ARC via Netgalley
Published: 12 May 2015 by Tachyon Publications
Genre: Speculative Fiction/Science Fiction
Blurb:
Inside the firewall the city is alive. Buildings breathe, cars attack, angels patrol, and hyper-intelligent pets rebel.

With unbridled invention and breakneck adventure, Hannu Rajaniemi is on the cutting-edge of science fiction. His post-apocalyptic, post-cyberpunk, and post-human tales are full of exhilarating energy and unpredictable optimism.

How will human nature react when the only limit to desire is creativity? When the distinction between humans and gods is as small as nanomachines—or as large as the universe? Whether the next big step in technology is 3D printing, genetic alteration, or unlimited space travel, Rajaniemi writes about what happens after.
Thoughts:
I really enjoyed this short story collection. There is something sublime, poetic and playful about how Rajaniemi blends mythology and technology in near (and far) future scenarios. I was reminded of Ray Bradbury's advice to write what you enjoy and what excites you:
"[If] you are writing without zest, without gusto, without love, without fun, you are only half a writer. It means you are so busy keeping your eye on the commercial market, or one ear peeled for the avant-garde coterie, that you are not being yourself. You don't even know yourself. For the first thing a writer should be is — excited." Ray Bradbury.
The first short story that won me over was 'The Server and the Dragon.' It follows a wandering space creature who is offered the chance to experience life as a dragon. I enjoyed the intergalactic twist on a classic mythological tale.
My second favourite was 'The Haunting of Apollo A7LB' which reminded me of Ursula K. Le Guin's essay 'Space Crones' – an essay which calls for older women with life experience to be recognised as suitable space explorers.
'The Haunting of Apollo A7LB' follows a woman who helped sew the first space suits in her youth and how she later finds her way to space. I just loved how that story confronts the changing social norms and prejudices around gender, race and work over time.
I also really enjoyed the imaginary trip across 'Invisible Planets' as inspired by Italo Calvino's Invisible Cities. The god-like power dynamics of 'Deus Ex Homine' was interesting (it played out almost like a Greek myth if Zeus had nanites) but I side-eyed the protagonist's dismissal over any responsibility concerning his abilities to alter fertility. (The protagonist was ignorant of this ability at first but I thought he could have acknowledged that he still held some responsibility for his actions.) Overall, I enjoyed the diversity of the stories and will definitely check out more of the writer's work in the future.