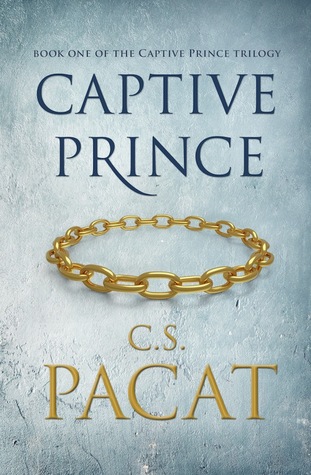 Genre: Fantasy
Acquired: ARC via Netgalley
Published: 7 April 2015 by Viking: Penguin
Blurb:
Damen is a warrior hero to his people, and the rightful heir to the throne of Akielos, but when his half brother seizes power, Damen is captured, stripped of his identity, and sent to serve the prince of an enemy nation as a pleasure slave.
Beautiful, manipulative and deadly, his new master Prince Laurent epitomises the worst of the decadent court at Vere. But in the lethal web of Veretian politics, nothing is as it seems, and when Damen is caught up in a dangerous play for the throne, he must form an alliance with Laurent to survive and save his country.
For Damen, there is just one rule: he must never reveal his true identity. Because the one man Damen needs is the one man who has more reason to hate him than anyone else . . .
Thoughts:
It's worth noting that I've been following this series since it's popular online run and recent move to print publication. I picked up the ARC to read the revised version of the story out of curiosity. The compelling tensions between the two princes – Laurent and Damen – is still intact but the tense political world is sharper than I remember.
The writing is succinct in creating the world of Vere with all its subtle power plays. The social dynamics behind slavery in this world loosely reminds me of Ancient Greek/Roman world. Slavery exists in the kingdom of Akelios so the reader is given some points of comparison in regards to Vere's treatment of slaves through Damen's perspective. The normalised problematic cultural attitudes around slavery in both Akelios and Vere is still jarring to read.
Content/Trigger warnings: There is visceral cruelty, rape, attempted rape, pedophilia and abuse of power rampant around Damen in the corrupt court of Vere. However, there are a few key players that aren't necessarily of that world-view.
These characters possess interesting layers hinted at in the first book. In particular, but the subtle slow unfolding of Laurent's actual character to Damen and the reader is intriguing. Will pick up on Damen's and Laurent's interactions in the third book later this year.