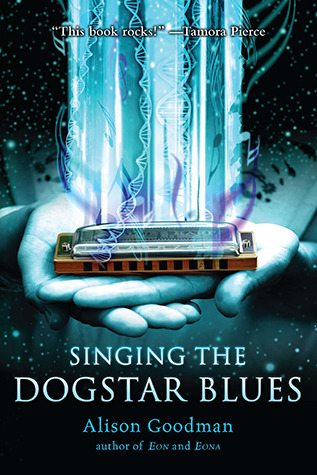 Singing The Dogstar Blues by Alison Goodman
Published: Firebird, 2012. (First Published: Angus & Robertson Childrens, 1998.)
Genre: YA Scifi
Seventeen-year-old Joss is a rebel, and a student of time travel at the prestigious Centre for Neo-Historical Studies. This year, for the first time, the Centre has an alien student: Mavkel, from the planet Choria. And Mavkel has chosen Joss, of all people, as his roommate and study partner. Then Mavkel gets sick. Joss quickly realizes that his will to live is draining away. The only way she can help Mavkel is by breaking the Centre's strictest rules – and that means going back in time to change history.
Thoughts:
Reading this novel was a bit like watching a quirky anime – the world building was a mish mash of different things. I liked Joss' sense of humour and the concept of studying time travel at an Australian university (if it was a real-life option, I'd totally go for it.) I also found Mav to be an endearing character for an alien. I think I wanted to explore Mav and Joss' friendship a bit more because they were so likeable and intriguing with the sci-fi element thrown in.
Random asides: It was a nice change to read a YA sci-fi novel set in Australia. The writing style is also a little quirky which reflects the cyberpunk/sci-fi world. I need to track down the recent Firebird edition to read the follow-up short story.